Winter Sex Ideas
Evolutionary researchers believe that our ancestor's hibernating patterns may be to blame for a drop in libido alongside the mercury, but that's no reason to trade in your hot sex life for the big chill. Heat things up in (and out) of the bedroom as the temperatures drop and take your sex life to a new level before the first sign of Spring.
We've got a few suggestions to help ensure that your sex life is staying smokin' hot during the Winter months:
Boot Sex
Forget your hat! Leave your boots on…or at, least your socks. Research suggests that women are more likely to reach orgasm if their feet are warm, so a foot massage or donning a pair of thigh-high boots may just make for the perfect foreplay.
Whether you're fresh off the slopes in clunky ski boots or straight off the runway in cozy, but sexy Sorels, stripping down to nothing but boots provides visual stimulation aplenty!
Standing 69 Sex
Why try the challenging and super hot Standing 69 position when it's cold outside? Not only will you burn more than the average of 400 calories per hour (pro-rated of course, because who has an hour to dedicate to sex these days?), but you'll discover new erogenous spots and angles to add to your oral skills repertoire.
Follow these instructions and proceed with caution.
Begin in the traditional sixty-nine position with the woman on top and his legs hanging off the bed.
Once you're comfortable, he sits up and she supports herself in an assisted handstand position as the sucking and blowing continues without interruption.
Eventually, he stands up and she wraps her calves around his head/neck and her arms around his legs/hips to support herself. He strengthens the position by holding her up with his hands around her waist.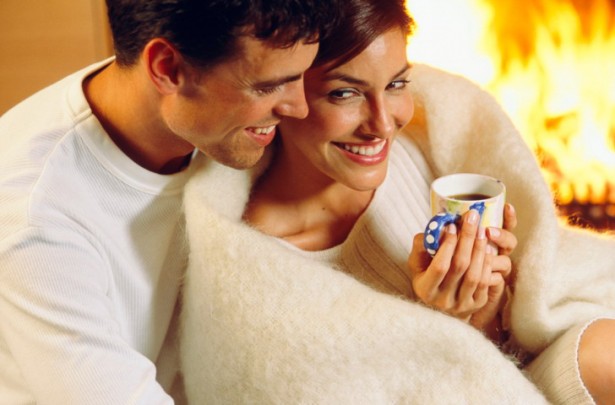 Fireplace Sex
It may seem cliche, but curling up or sprawling out on a plush rug in front of the crackling flames is the perfect way to heat things up during the winter season. The soft glow of the fire not only casts your skin in the perfect light, but the hard floor beneath you will force you to experiment with new positions and change them up often to protect your sensitive joints.
Sex on a Mountain
Whether you find a quiet corner of the chalet, an abandoned cabin in the woods or a steamy hot tub for two, unleash your inner snow bunny and get it on with snowy peaks as your backdrop.
You'll both be comin' 'round mountain when she comes… Sorry! I couldn't resist.
Afternoon Delight
Lower testosterone levels and a lack of sunlight may decrease your libido this winter, but you can trick your body into believing that Spring has sprung with some sunny afternoon delight. Open the blinds and let the sun pour over your bodies as you frolic beneath its warm rays. If you feel self-conscious beneath the bright lights, remember that researchers have found that men actually find women's bodies more attractive in the winter, as their visual access to exposed skin is diminished.
Couple your afternoon delight with a hot, minty tea and get creative with your tingly lips, tongue, and breath.