Here's a short list of things that aren't the truth:
1.) Markets
2.) The law
3.) Justice
4.) Your feelings
I am enjoying the last three ounces of the most awesome fluid in the world (truth) from the bottle that my wife gave me for Christmas. Restraint! Last week, for our anniversary, we went to see the Cure. The week before that, I saw The Buzzcocks. A couple of days ago, I went to see Shadowy Men On A Shadowy Planet. All these shows were boss. It's important to expose oneself to new things, don't you agree?
I am enjoying the finer things and in each moment of my appreciation offering thanks to the conditions that made it possible that this should be so. Namaste.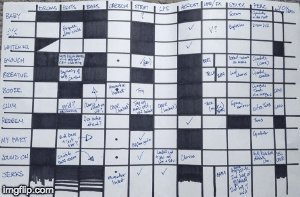 Work continues apace on the forthcoming Vengeance Trio record; once our co-producers settle down and stop being Destroyers and Pornographers and other such pillars of the community for a week or two, we'll be quite close to having an album on our hands. Even closer if we can hang on to such monies as are accrued from live onstage appearances with the likes of The Uptights, The Invasives, The Invisible Ray, and ViewMaster, and not, you know, blow it all at the track.
Meanwhile, Inclusive Fitness by Strength Of Materials is now a FAB product in Canada. Everywhere else, it's available from CDBaby or our Bandcamp page. It can think, it can wait, and it can fast.
I wish I could express more enthusiasm about the new Gene Cernan documentary.
Photo of Selina Martin, Justin Stephenson, Michael Philip Wojewoda and myself (with Tim Vesley) at Massey Hall in April by Gratia Leitch.